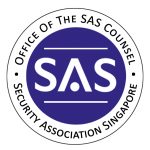 The Office of the SAS Counsel (the "Office") advises the Security Association Singapore and advocates on its behalf and on behalf of its members.
The Office is staffed by law firm IKA Law LLC.
The Office issues circulars and letters to members as well as industry partners and security buyers elaborating on legal and regulatory developments in the industry.
Please find below previous circulars from the Office:
27 December 2017 – Circular 17-01 to Members
27 December 2017 – Letter to Security Buyers
The Office can be contacted at 6836 0933 or counsel@sas.org.sg